Resources, FAQs and info for cultural workers in Rotterdam
How do I register as a self-employed(zzp) in the Netherlands?
A zelfstandige zonder personeel, ZZP'er is the equivalent of a freelancer. For more information on the types of business you can setup and what would be required of you click here:

https://www.kvk.nl/english/starting-a-business-in-the-netherlands/self-employed-professionals/
To become a zzper you will need to register with the Chamber of Commerce (KvK) to get a kvk and BTW nummer. You have to book an appointment and pay 50 euros fee for the administration. Here is the link:

https://www.kvk.nl/inschrijven-en-wijzigen/inschrijven/
That depends on the assignment, your previous experience and whether you get paid per hour or per project. As a rule of thumb, you charge the average per hour if you would have been contracted and add between 30%-50% depending on your discipline and area of work. There are various CAOs (collective agreements negotiated by unions and lobbies) that specify not only the fair salaries, but also the added amount you need for insurance, pension and holiday pay.
This pdf contains information on CAO's and rules for different cultural subsectors and institutions.
https://smacc.nl/wp-content/uploads/2019/11/Rubricering-ingredienten-fair-pay-referentielijst_def.pdf
What should I be charging as a freelancer?
Not all sectors have CAO's. For the rest here is a document from the ZaakNu on salary recommendations per institutional position. The daily or hourly rate to be agreed is at least equal to the wage level corresponding to the job level (including 8% holiday allowance), increased by at least 30%. Note: this still excludes VAT. The daily rate is equal to the monthly rate stated in the document divided by 21.67 (= the average number of working days in the month). The hourly rate is equal to the daily rate divided by the normal working hours per day. In the usual 36-hour working week in the cultural sector, this is 7.2 hours. In that case, the hourly rate corresponds to 1 / 156th of the monthly rate. For more information click below:
http://www.dezaaknu.nl/downloads/Richtlijn%20functie-%20en%20loongebouw%20-%2018%20april%202019.pdf
In which cases am I not a freelancer and I should request a contract?
Freelancing is supposed to allow workers the freedom and self-determination of an one-person enterprise. However, this is not the case when endless freelancing is used beyond the scope of a project and the relationship of employee/client resembles the relationship of employee/employer (ex. using the tools of employer, wearing a uniform, invoicing per month, not being able to replace yourself with someone else etc.). In this case, you should require a temporary contract so you ensured insurance and other benefits that come with having a contracted job.
What are the regulations and rules about fair compensation per sector?
For solo musicians
https://www.vrijekntv.nl/
http://nieuwgeneco.nl/wp-content/uploads/2019/05/NieuwGeneco-Honorariumtabel-versie2019.pdf
For bands
For visual artists
https://kunstenaarshonorarium.nl
For film professions actors, technicians, cinematographers

http://www.raakvlak.nl/nl/pages/wittetabelverloning.php
For different cultural workers of presentation institutes
http://www.dezaaknu.nl/downloads/Richtlijn%20functie-%20en%20loongebouw%20-%2018%20april%202019.pdf
For specific collective agreements CAO's
https://www.kunstenbond.nl/categorie/3/cao
I am an intern, is there any legal framework that I should be aware of?
Internships are highly unregulated in the Netherlands. This means that there is no framework when it comes to the ratio between interns and employees. If you feel there is an imbalance on the amount of interns or you feel your work replaces a potential paid position on the level of responsibility that you have to assume then drop us an email. The internship compensation might range for 0 to 800 euros for a full-time position. Some Collective Agreements(COAs) state a minimum compensation for an internship; for example in the Theater and Dance CAO a minimum of € 300 per month gross is offered for 5 full internship days per week. Your contract as an intern should always be an agreement between your school, the employer and you. Within that agreement you need to have a clear description of the working conditions, working hours, the dates of the internship, the tasks and responsibilities for both parties, the learning objectives etc. Here is a checklist for all the things to pay attention in that agreement.


https://www.beroepkunstenaar.nl/onderwerpen-a-z/stagecontract/#c1011509
I have started volunteering in an institution/organization, is there any framework I should be aware of?
A volunteer (Vrijwilliger) would often be found in a facilitation role in an institution. The role is required to have a social interest, and a non-profit purpose and by no means should replace a paid position. For example roles in horeca (bar, garderobe, guard) should be paid positions. In most cases, there is a volunteer fee paid of € 4.50 per hour if you're older than 22 or € 2.50 per hour if you're younger, with a maximum of € 170 per month and € 1,700 per year. You are not required to pay and declare taxes on volunteer fees as long as they don't exceed 1,700 per year. It is advisable to have a contract as a volunteer that states your tasks and activities, the period of your contract, the reimbursement, liability and accident insurance. Here's a full checklist.

https://www.beroepkunstenaar.nl/onderwerpen-a-z/vrijwilligerscontract/
Sometimes too much tax is withheld from your compensation and you are entitled to a tax return. For more info and how to do it check here:
What is the minimum wage in the Netherlands?
If you're over 21 years old the minimum wage should be € 10,77 gross if you work up to 36 hours per week. For more than 36 hours it reduces to € 9,70. If you're less than 21 years old, it ranges from € 2,91 to € 8,62!!!! You can find more info here:
https://www.rijksoverheid.nl/onderwerpen/minimumloon/bedragen-minimumloon/bedragen-minimumloon-2020
VOOR14 is fighting throughout the Netherlands to increase the minimum wage to 14 euros per hour in order to decrease the wage gap between average wage and minimum wage. For more information and to join their events (WE DO!) click here:
https://www.voor14.nl/
What are the different types of flex contracts? How do I know if I deserve a fixed contract?
Since the beginning of 2020, the rules around on call and temp contracts have changed. There are three types of flex contracts: on call contract with a preliminary agreement, min/max contracts and zero-hour contracts. You have different rights with all three contracts. For example for zero-hour contracts, the minimum hours you can work is 3 and you are entitled 3 hours pay even if you were called for less than that. If you worked over 6 months in the same job and you are called to work but there is no work then you are still entitled to continued payment of your wages. Your employer must also continue to pay you if there is work, but you are not called up. This is called the continued payment of wages. Most importantly a zero-hour contract should turn into a fixed hour contract. Your employer is obliged by law to offer you a fixed contract every 12 months. In many cases you are entitled to sick pay even if you have an on call contract. For more information on all three contract types please check below:
https://www.rijksoverheid.nl/onderwerpen/arbeidsovereenkomst-en-cao/vraag-en-antwoord/welke-contracten-zijn-er-voor-oproepkrachten
https://www.belastingdienst.nl/wps/wcm/connect/bldcontentnl/belastingdienst/prive/werk_en_inkomen/jongeren/teruggaaf
_jongeren/school_en_werk/stage
How do I get insurance, do I have to pay it myself? What about pension? What about sick leave?
Are there any risks that come with freelancing?
Yes and they are a lot! As a freelancer you might have disputes over payments, your clients might be dissatisfied and refuse to pay, you might not be able to get as many clients as you need in order to sustain yourself etc. For all the information on how to minimize "your own risk" check this:
What about taxes?
As a freelancer you are required to pay VAT quarterly if you don't belong in KOR(small business scheme, that does not charge or pay VAT). You also might have to file for income tax if you have a substantial income. For more information on VAT (BTW) check here:
https://www.zzp-nederland.nl/kennisbank/btw-regelingen-overzicht
For all tax matters check here:


And for financial help and arrangements here:
https://www.rijksoverheid.nl/onderwerpen/zelfstandigen-zonder-personeel-zzp/vraag-en-antwoord/zzp-belasting
https://www.rijksoverheid.nl/onderwerpen/coronavirus-financiele-regelingen/overzicht-financiele-regelingen
https://www.beroepkunstenaar.nl/tools/faqs/faq-ondernemersrisico-beperken/
You are required by law to have health insurance in the Netherlands, otherwise you risk getting a fine. If you have a contract, in most cases your job would have a collective agreement with an insurance company and that gives you a discount. The insurance contributions are also paid through your work. If you are a freelancer (no contract) then you are responsible for your own insurance. According to your status (student, worker) you can get different insurances. For the status of pension and insurance for contracted workers and interns check here:
https://fairpracticecode.nl/nl/verzekeringen-voor-werknemers
For general info around health insurance check here:
https://www.iamexpat.nl/expat-info/insurances-netherlands/dutch-health-insurance
If my working conditions are unhealthy (too much workload, disputes, bullying, harassment) where can I view my rights and report?
Sometimes there are disputes at work or you might deal with cases of harassment, discrimination or bullying. If you work somewhere with an HR department, the first step would be to report there. They are obliged by law to follow the protocol. If there is no HR department and there is no way to report to anyone else (coworkers might be able to help, talk to them!) then you can report in the following link:
https://werkdrukenongewenstgedrag.zelfinspectie.nl/
Is there a legal framework on how many hours I am allowed to work and the break I can take?
Yes, there is a quite thorough framework. For example you can't work more than 60 hours per week and you are not allowed to work more than 12 hours per shift. For more information click here:
https://www.arbeidstijdenwet.nl/arbeidstijdenwet/
If you work specifically in performance, theater, television or film you can also report here:
https://mores.online/
There are different regulations for sick leave per contract. You can be entitled up to 2 years sick leave depending on your contract. Click the link for more information:
https://www.rijksoverheid.nl/onderwerpen/ziekteverzuim-van-het-werk/vraag-en-antwoord/wordt-mijn-loon-doorbetaald-als-ik-ziek-word
If my disputes require a legal advice where can I find an affordable one?
If you have low income you can get a free advice about most topics at the the Juridisch Loket. Rotterdam. Book an appointment here:
https://www.juridischloket.nl/contact/rotterdam/
Is there a union that can help me with issues of exploitation and offer legal advice?
A union can advocate for you, provide you with limited legal advice and offer you help with questions regarding labour rights. They are also a great resource for information on fair pay, working condition, transparency and diversity within the workplace. Depending on your sector there are different unions you might be interested in joining.
For artists
https://www.kunstenbond.nl/producten
For everyone else there are sub-groups in FNV that you can join.
https://www.fnv.nl/
Are there other initiatives that advocate for cultural workers?
Trade unions are not the only alternative. Vlowewerk is a grassroots union that offers advocacy and a solidarity network.
https://vloerwerk.org/
How are institutions accountable to the public? Are there any legal frameworks that they have to adhere to?
There a many "best practices" when it comes to transparency, diversity and Fair Practice. The following comprehensive codes have been created to "advise" institutions on how to achieve transparency, be more inclusive and pay fairly.
Governance Code Cultuur
Contains information on how to be transparent with the finances, how are you accountable to your employees, your funders and the public as well as on what are the responsibilities and procedures of the supervisory Board, how to deal with funding and how to be transparent on your decisions and actions.
https://bij.cultuur-ondernemen.nl/governance-code-cultuur/overzicht?referrer=38659
Code Culturel Diversiteit
https://codeculturelediversiteit.com/the-code-english-version/
Over 90% of institutions claim that cultural diversity is important to them and their Boards and organizational structures are predominantly white. Inclusivity is sought after in programming and audience instead of structural changes. The Cultural Diversity Code is aiming to change that.
Fair Practice Code
Fair Practice Code is an accessible series of questions and resources to regulations and legal frameworks around Fair Practice in the cultural sector. That includes fair pay, working conditions, job security, transparency, inclusivity and copyrights.
https://www.fairpracticecode.nl/en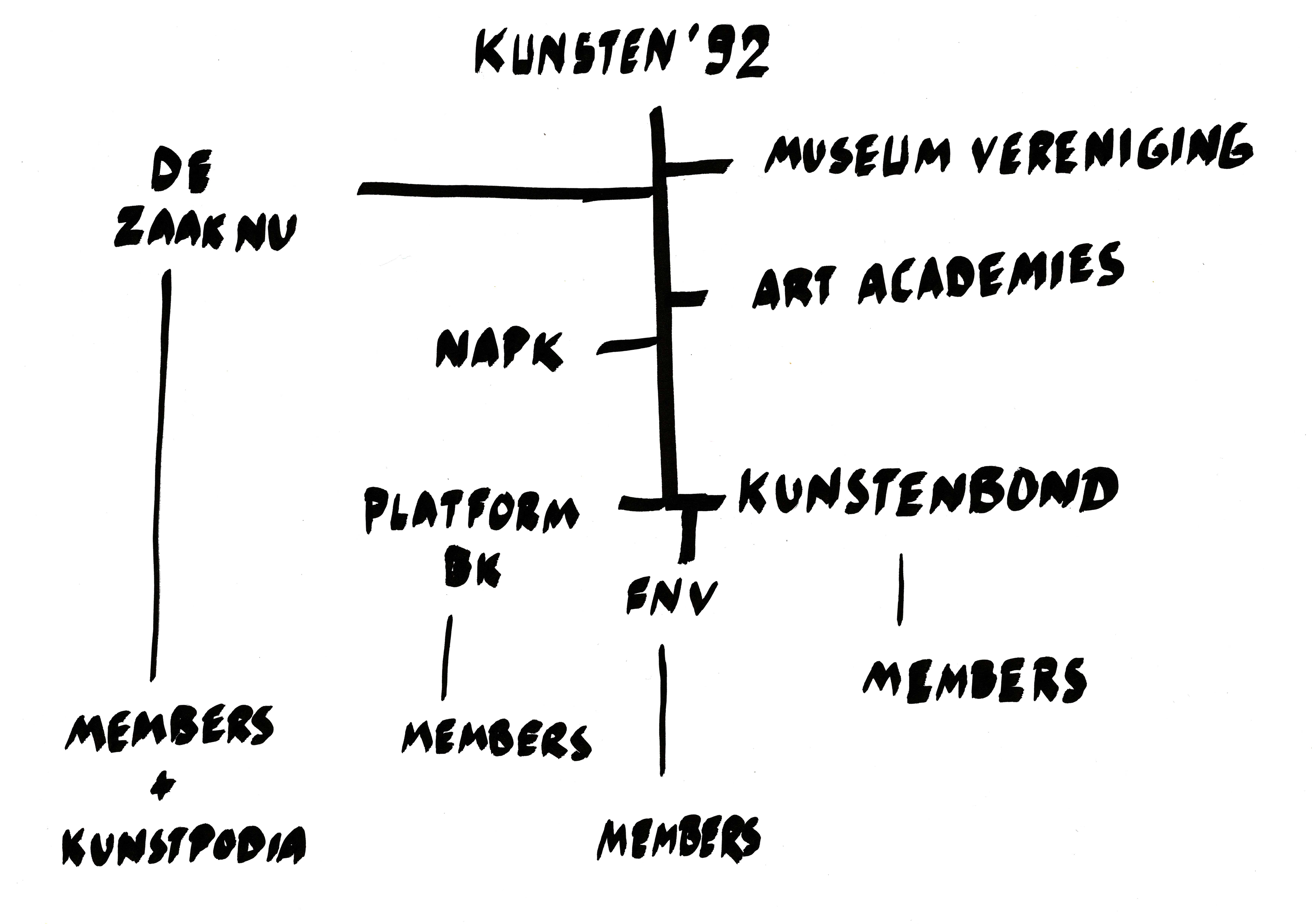 lobbies for the cultural industry at large and communicates directly to the Ministry of Culture
trade association that advocates for Museums
Art Academies lobby together for art education
Nederlandse Associatie voor Podiumkunsten lobbies for performing arts venues and orgs
Trade association for visual art presentation institutes
Union for artists, curators, facilitators.
FNV's branch for Media & Culture
For more professional associations with memberships click here:
https://www.beroepkunstenaar.nl/disciplines/werkveld-beeldende-kunst/beroepsorganisaties/
https://www.kunsten92.nl/
https://www.museumvereniging.nl/home
https://www.napk.nl/
https://www.kunstenbond.nl/
https://www.platformbk.nl/
Member association that lobbies for artists, designers, curators and critics. Mostly focused on Amsterdam
https://www.fnv.nl/cao-sector/media-cultuur
Where do CULTURAL WORKERS UNITE come into the above scheme?
Cultural Workers Unite is a grassroots collective of cultural workers focusing on the Rotterdam cultural sector. We consider everyone working with, or in a cultural institution or project space, a cultural worker. We do not operate with a membership and we cover operational costs for printing or materials needed from donations.
http://www.dezaaknu.nl/